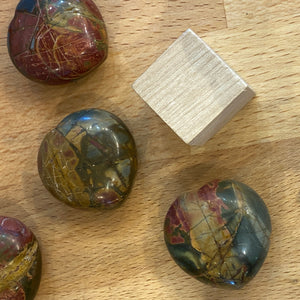 Crystal Works
Picasso Jasper Heart
Regular price
$9.00
$0.00
Unit price
per
Picasso Jasper is all about positive change! Picasso Jasper can open you up to new perspectives, and help you to see circumstances in a whole new light. Picasso Jasper is a great stone of support when going through uncertain and new circumstances in life. This is a wonderful Jasper ally to keep you energized as you learn to go with the flow of life.
Picasso Jasper is also a great crystal ally to support positive change within relationships, and not just romantic relationships. Picasso Jasper aids in letting go of past emotional baggage that may be hindering your current relationships with others. Picasso Jasper supports you in opening your heart when you have been feeling closed off due to past negative experiences.
Picasso Jasper is also a stone of both creativity and abundance. Picasso Jasper resonates with the solar plexus chakra, giving you a sense of balance, and energy for new beginnings.
Picasso Jasper is linked to the sign of the pen-minded seeker, Sagittarius.
---
Share this Product
---