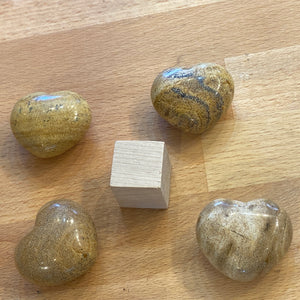 Crystal Works
Picture Jasper Heart
Regular price
$12.00
$0.00
Unit price
per
There are many variations of Jasper to be found, but one thing that they all have in common in their folklore centers around self nurturing. Jasper's are also linked with bodily health, protection, and can aid in isolation. Jasper's also help us to remember that we are not truly alone, and remind us of the importance of kindness to others.
Picture Jasper is used in esoteric work that involves visualization and scrying (an ancient visualization practice that can be used for divination).
Picture Jasper is also wonderful for dream work.
If you're seeking a deeper connection to nature this is a wonderful ally. Picture Jasper is said to hold a special place in the heart's of those who care deeply about the well-being of the Earth
Picture Jasper is a third eye and root chakra stone. This form of Jasper is linked to the astrological sign of Leo.
---
Share this Product
---